Forecasts predict 28% growth in Luxembourg's population by 2035, not including a significant increase in cross-border workers. How much additional retail space needs to be developed to accommodate this population growth? And is this realistic, given increasing pressure on land use? Read on for our views on the subject and our recommended solutions.
The Grand Duchy of Luxembourg currently has 645,000 inhabitants; it is expected to be home to 826,000 people by 2035. This amounts to 181,000 additional inhabitants in 13 years and growth of 28%. According to Statec (the National Institute of Statistics and Economic Studies), in the event of maximum demographic growth, the Grand Duchy could even see its population reach 1.2 million inhabitants by 2060! 
Commercial development to avoid retail displacement
If Luxembourg's population does actually grow by 28% by 2035, retail facilities will have to reflect this demographic growth, at least in part. What's the risk if the country's retail portfolio doesn't increase as well? An increase in retail displacement, whereby retailers move to neighbouring countries.
The map below compares the current situation with the forecast for the future; it shows:
the proportion of commercial facilities per inhabitant and per municipality in May 2022 (in blue);
the expected demographic growth by 2035 (red circles): this is the number of additional inhabitants expected per municipality, according to Statec.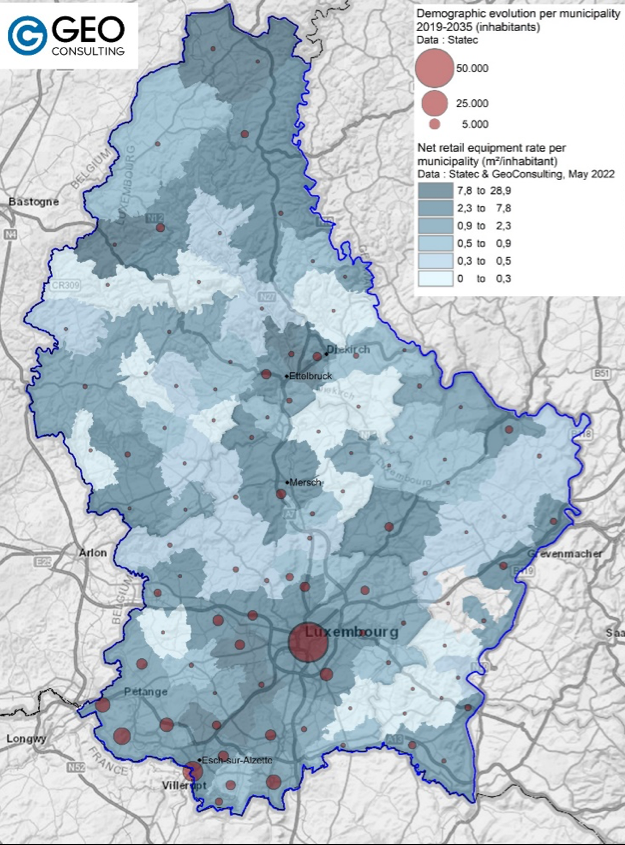 Retail: the impact of cross-border workers
What makes the Grand Duchy of Luxembourg so unique is its large number of cross-border workers. With their significant spending power, these workers play an important role in Luxembourg's economy and should therefore be taken into account when identifying the country's retail potential and commercial development needs.
Pour se faire une idée du phénomène, les graphiques suivants illustrent l'augmentation du nombre de frontaliers, qui n'a cessé depuis les années 1980s :
There were over 80,000 in 2000 and almost 200,000 in 2020, an increase of 143% in the space of 20 years.
This significant rise in the number of workers is expected to continue in the coming years, with predictions of almost 236,000 additional workers by 2035!
This represents truly extraordinary growth in comparison to the resident population (which, as previously mentioned, amounts to 645,000 people today).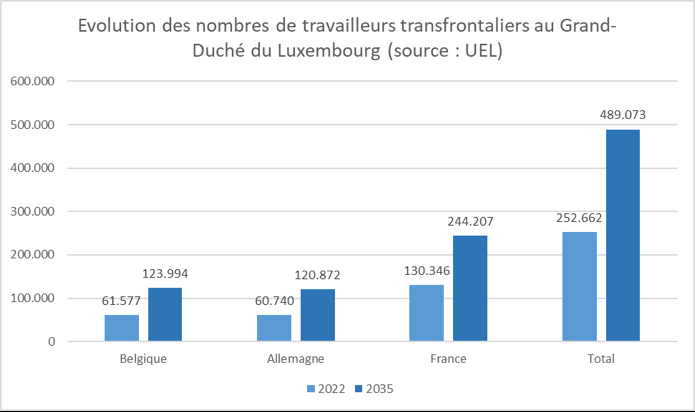 What potential is there for retail development?
In 2022, the Grand Duchy's total net commercial space is 1,519 million m² (retail, food and beverages & services), equivalent to some 2.35 m² per inhabitant. If we focus solely on demographic development and maintain a ratio of 2.35 m² per inhabitant, a total of 426,000 m² of additional retail space would need to be developed by 2035.  
If we also consider the increased number of cross-border workers, an additional 505,000 m² of commercial space will be required in Luxembourg.
But is it really necessary to maintain the same area per inhabitant as the country has today? We're not convinced. The following aspects should be considered:
Changes in consumer habits and trends, particularly the rise of e-commerce at a global level;
Changes in (remote!) working habits.
Currently, e-commerce has a retail market share of about 8%. If we assume that e-commerce will double by 2035 to reach a market share of 16%, the potential for retail development drops from 505,000 to 329,000 m² of additional retail space. This represents growth in physical trade of 21.6% for demographic growth of 28% by 2035. This represents an annual net growth of 25,300 m² (retail, food and beverages & services). This additional area therefore represents the number of m² which should theoretically be added so that the Grand Duchy does not lose its commercial appeal.
Commercial development potential: how reliable are the forecasts?
Of course, these forecasts need to be monitored and reassessed from year to year.
Consumer trends can change rapidly. After all, e-commerce barely existed 15 years ago. Who knows what new innovations or developments could totally transform consumer trends by 2035?
Some crisis situations have disruptive effects: in the last 15 years alone, we have witnessed a recession, the Covid-19 pandemic and the war in Ukraine. By definition, these phenomena are unpredictable and inevitably have an impact on behaviour and demand.
Is pressure on land use a barrier to commercial development?
Another factor to consider is that this estimate of potential additional space of 329,000 m² is based on the premise that there will be significant demographic and economic growth. But this overlooks a critical issue: the pressure on land use. If it remains the same, the current rate of housing construction will not be able to accommodate all these potential new residents. In this case, the estimate should be revised downwards.
Another problem which stems from the pressure on land use: how can Luxembourg ensure the development of 25,300 m² of commercial space every year when land pressure for housing is already very high?
Our two solutions:
The

redevelopment

of unsuitable sites: redevelopment of wastelands, urban densification, redevelopment of single-function sites in a state of decline.
---
Analysing development potential, municipality by municipality
How can developers ensure a properly functional mixed development, based on a site's characteristics? What type of commercial offering should be developed in different locations? These questions require micro-geographical analysis which consider the specificities of different sites and areas, because a municipality like Esch-sur-Alzette doesn't have the same characteristics as a municipality like Echternach. Factors including accessibility, competition and tourism should be taken into account for detailed analysis of commercial development needs and the key choices to be made.
Are you interested in detailed analysis like this? Get in touch with our teams; we can work together to respond quickly and precisely to your needs.