Your geomarketing solution advisor in the Real Estate business,
since 2005
Limit your risks. Shorten your deadlines. Ensure your profitability!
Functional diversity
A real challenge for Real Estate
Residential
How many apartments / houses?
What types of apartments?
Price level and rate of sale?
Office
How many m² of offices?
For which target?
Retail
How many m² of retail to develop?
Which shops / brands?
What turnover for my project?
How do I get my commercial permit?
How can I quickly increase my turnover?
Services & Logistics
What types of services to implement? How many m² of logistics?

Based on current and future market needs
Our Real Estate Circle
GeoConsulting, Real Estate specialist, offers a range of services adapted to your specific needs. A comprehensive approach starting with the design of a real estate project, plus proactive support, providing solutions at every stage.
We take account of your short, medium and long-term goals.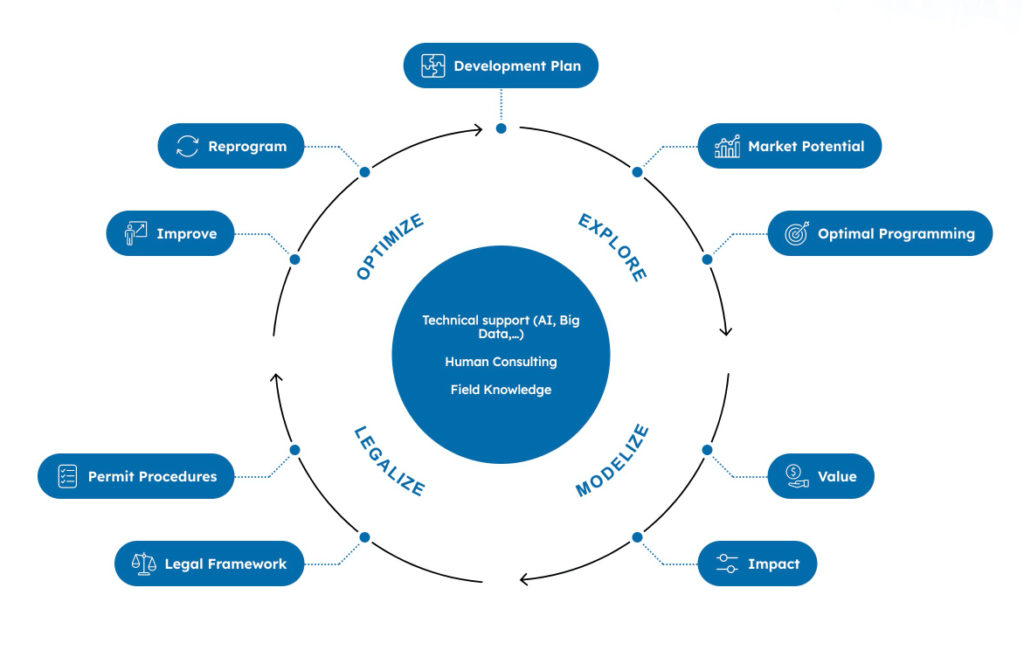 Network optimization
Analyze your network and its performance according to the geographical characteristics of the market
Expansion plan
Explore high potential areas; identify the places where to set up your activities as a priority
Market Potential
What are the developable potentials that the market can absorb? How many houses, shops, offices, restaurants, leisure, services, etc. can be developed in the years to come?
This step generally precedes the turnover estimate (see Value, here after).
Multifunctional programming
Considering the characteristics of a place and the development potentials, what activities should be developed there? For which surfaces, activities or brands? For which targets?
Residential programming
How many apartments or houses? On which surfaces and what number of bedrooms?
Retail programming
Which stores to install and on which surfaces?
Office programming
How many m² of offices to develop? For which activities?
Parking sizing
Based on the projected activities, how many parking spaces would be needed?
Residential valuation
What price and sales rate should you expect for your residential project? What rents?
Sales studies
What turnover can I expect for my shop?
Turnover impact study
What would be the impact of opening a new shop on the existing network?
Impact analysis for CDAC
Writing of the impact analysis report required for applications for commercial permits in France
Compliance analyzes and legal framework
Does your activity or brand comply with the legal framework? Do you have all the necessary permissions?
Pre-contractual information document
What are the market characteristics of my project? What is my catchment area?
Who are my potential customers and my competitors?
Permits for commercial establishments & socio-economic authorizations
Writing applications for commercial establishment permits (Wallonia) and socio-economic authorization applications (Flanders) necessary for the opening of new points of sale.
Appeal procedures on commercial establishments
Has your permit application been refused? We are responsible for introducing, motivating and defending an appeal to the Commission of Appeal on Commercial Establishments
Optimization of the attractiveness of your site
Based on surveys carried out among the population and customers and depending on the characteristics of the market, what actions should be implemented in the short, medium and long term to make my site more attractive and more efficient?
Reprogramming
Clean up your existing site. Why doesn't it work anymore? How to rethink things to guarantee the success of your project?
Want to know more about what GeoConsulting can do for you?
News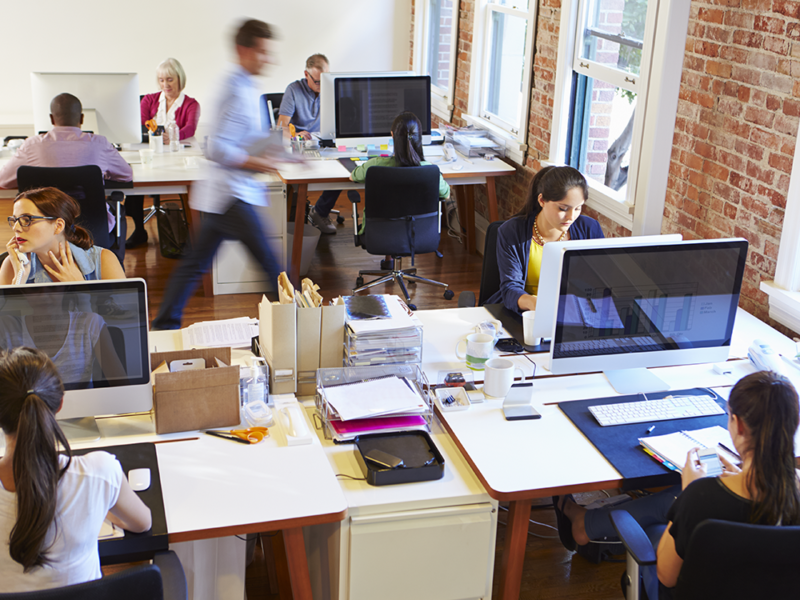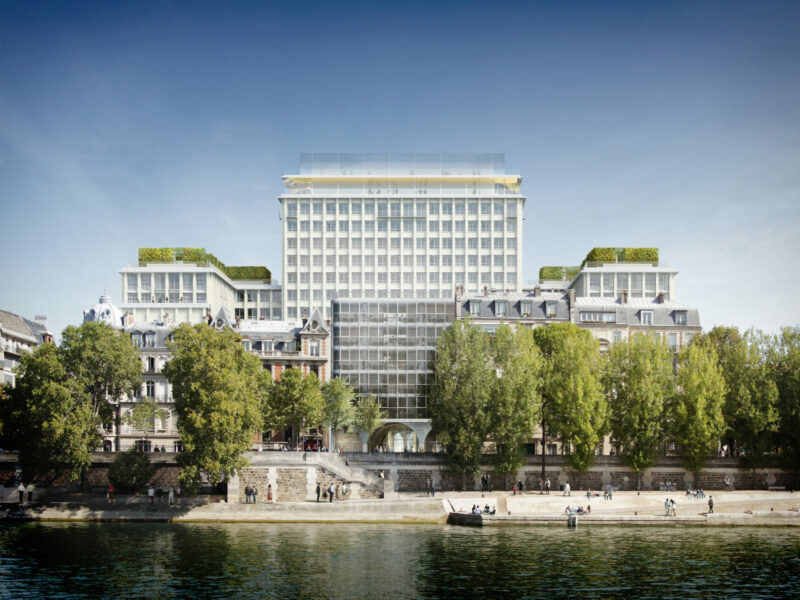 Mixed-use development brings together different uses (housing, retail, offices, services, etc.) in a fairly small area. In our view, any urban development project should now be mixed-use, beginning at a neighbourhood level. In this article, we explain the challenges and the urban development concepts which can be used to develop a good mixed-use project.
Continue reading "Mixed-use development: the future for local development"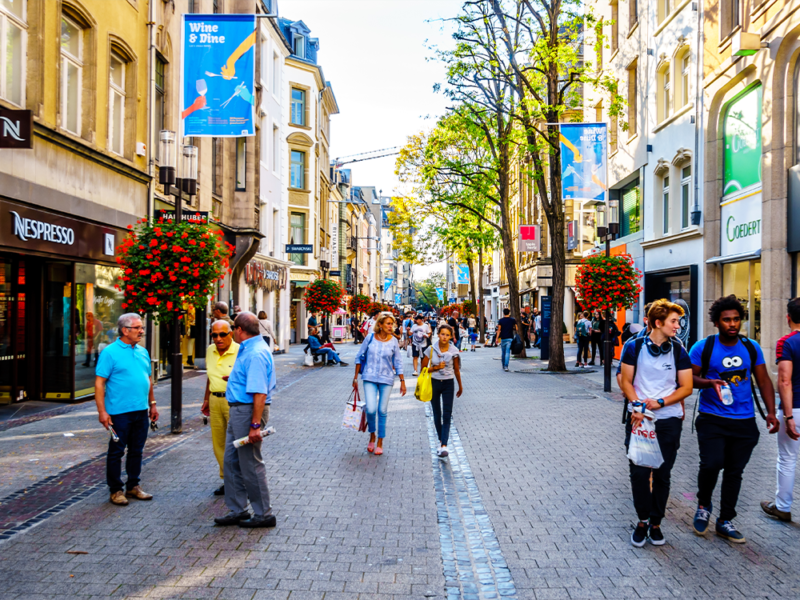 Forecasts predict 28% growth in Luxembourg's population by 2035, not including a significant increase in cross-border workers. How much additional retail space needs to be developed to accommodate this population growth? And is this realistic, given increasing pressure on land use? Read on for our views on the subject and our recommended solutions.
Continue reading

"What future for retail in the Grand Duchy of Luxembourg?"
Case Studies
Your Challenges? Our passion
Our references
They trust in us! And you?