According to PwC's Global Consumer Insights Survey, 36% of urban consumers around the world spent less in 2020. Year-end forecasts in 2019 certainly didn't predict such a statistic. At that time, 46% of people in Belgium stated their intention to spend more in 2020, for example. In France, consumer spending was predicted to increase by 0.3% per quarter. We know that the consumer spending crash is caused the pandemic, but what are the exact reasons behind it? In our view, it's important to focus on this question to identify the right solutions and to develop the right recovery strategy.

Drop in consumer spending: key reasons
As early as July 2020, the National Bank of Belgium surveyed Belgians to find out why they had been spending less during the previous months.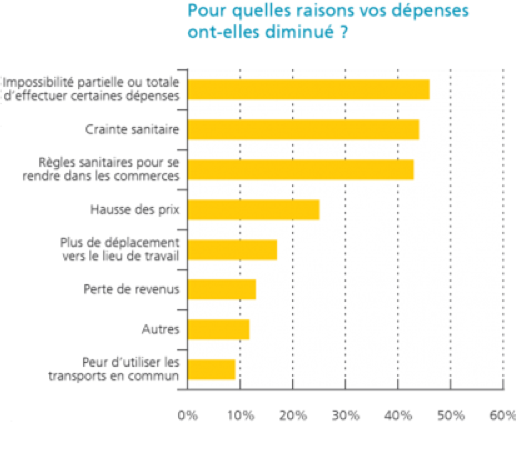 Source: BnB
Their answers, which we believe can be extrapolated to other countries and to the rest of the year, remind us that the reasons behind the drop in consumer spending are more cyclical than structural.
Reasons to be positive about the recovery
1) Many of the reasons for the drop in consumer spending will automatically disappear as the pandemic subsides:
The re-opening of all sectors and all industries
A (partial) return to the office
Less anxiety about being in public places
Less reluctance to use public transport
Fewer restrictions when it comes to "fun shopping": the numerous preventive measures which shoppers have had to follow have turned off even the biggest fans of shopping in physical stores.
2) Although loss of income is mentioned as a reason for reduced consumer spending, it only concerns a minority of people. Indeed, compared to the dramatic declines in economic activity, GDP and consumer spending, individual purchasing power has not declined significantly in 2020. At a European level, it has dropped 5.3%, with major disparities between countries. The top 3 wealthiest countries (including Luxembourg) have been the least affected. France has seen a drop of 4%.
The statistics show that consumer spending has mainly shifted to savings, a change which, to some extent, has been forced on consumers. In autumn 2020, Eurostat reported a record savings rate of 24.6% of eurozone households.
3) If we break down the drop in consumer spending by sector, we can see that it's most apparent in certain sectors, while others have not necessarily suffered a widespread slump. Of course, this is bad news for the affected sectors, but other sectors will see this as a positive.
Een paar voorbeelden om dit punt te illustreren:
Belgium:

In the third quarter of 2020, the sectors whose turnover was most affected by the pandemic were travel, air travel, the manufacture of other means of transport and the culture sector. These sectors saw a drop in sales of between 43% and 83% in comparison with the same period in 2019.
In contrast, the Economic Risk Management Group noted in its report of February 2021 that the average loss of turnover for Belgian companies was less than 10%.

Luxembourg:

The sectors which were hardest hit in 2020 in terms of consumer spending include: hotels and restaurants (-33% in comparison to a "normal" year), leisure and culture (-22%), transport (-19%) and clothing (-19%).
Other sectors, such as housing, communications and financial and insurance services, were hardly affected at all.
Some sectors even saw a positive impact: the most obvious example was food in the retail trade, unsurprisingly.
As we have seen elsewhere, clothing didn't benefit very much from the recovery after the first lockdown. In August 2020, Statec noted that spending was still 10% lower than in August 2019.

France: In addition to the food sector and essential expenditure, various other sectors also fared well. In 2020, the French invested in devices and equipment for their homes:

computer equipment (+13% between May and the end of August),
televisions (+5.5%),
kitchen appliances (+20% alone for the Seb cake-making machine),
DIY equipment (+18% in July and +13% in August, compared with 2019),
furniture (+14.8% in July and +13.7% in August),
board games (+13%).
Although some sectors have lost out during the pandemic, COVID-19 has created winners too, thankfully.
What scenarios for a post-COVID world?
Of course, the concept of "post-Covid" must be qualified. Although there are grounds for hope in 2021, vaccination campaigns are making very slow progress and there are many unknowns when it comes to the different variants of the virus. The global recovery after the pandemic (and the resultant economic recovery) will therefore be gradual.
Similarly, we believe that the recovery in consumer spending may be slower than hoped. Above all, the recovery will vary from sector to sector. Two examples:
While it will suddenly be possible to return to restaurants and theatres, these venues will not be able to operate at full capacity.
Until a majority of people around the world are vaccinated, there is likely to be a reluctance to travel far. If tourism picks up again, there will probably be a strong preference for less far-flung destinations and for accommodation which allows a certain measure of independence; this will continue for some time to come.
There are other fundamental questions too:
In sectors where consumers have got used to e-commerce, how many will revert to their old habits (whether totally or partially)?
We know that psychology has an enormous influence on consumer spending. What will triumph in this situation? A celebratory post-COVID mood, driven by a desire to make up for lost time? Or caution, linked to economic uncertainties? There will probably a bit of both, possibly at the same time.
Our strategic advice for the recovery
In view of these uncertainties about the recovery, there are some changes in consumer spending which we believe are destined to last: the trend for organic and locally produced food and drink, for example, along with the popularity of home-delivered meals and e-commerce.
This has enabled us to identify a number of areas which should feature in your recovery strategy:
If you haven't joined the digital revolution, it's time to do so. Digital technologies are now used in all sectors, with a single objective: satisfying consumers in search of the ultimate convenience.
Think "omnichannel". This applies both to shops and restaurants. This involves providing more mixed solutions (in store or at the restaurant, take-away/click & collect, home delivery) and optimising the structure of your brand network. When it comes to this structure: rethink your logistics by optimising the "last mile" which is closest to consumers and presents critical issues in this era of booming e-commerce. Reclaiming urban wasteland is one of the best opportunities; subsidies and grants are sometimes available.
Focus on health and safety, which are now fundamental values. Social distancing,
Track changing consumer moods. After our obsession with health and hygiene, what new trends will emerge during the recovery? What will consumers want: fun, well-being, social interaction, special offers? A little bit of all of the above? Stay focused on consumers' latest needs! These could vary significantly in the coming months, even from one category of consumers to another. You'll need to listen and adapt. Agility, that business buzz word, is important in every sector.
Here at GeoConsulting, we're passionate about keeping our fingers on the pulse when it comes to the economy and consumer spending. As far as we're concerned, it's the best way to provide our customers in retail, real estate and food service with the ultimate strategic solutions.